For a very long time, our minds have been attracted by the spooky allure and nerve-tingling secrets of Halloween. This is the time of year when we celebrate the macabre, rejoice in the occult, and, of course, indulge ourselves to be a little bit scared. However, Halloween is about much more than just being scared; it also provides an opportunity to explore creativity, history, and even savings. This article wraps everything you need to know about Halloween, we will delve into the many facets of the world of Halloween from the best scary films and decorating ideas to the holiday's history, how to save money shopping online and how to stay safe.
Films for Halloween That Will Excite the Cinephile within You! 🧛

When the leaves begin to change colour and the days become shorter, it is the ideal time to curl up on the couch with some Halloween movie. There is a movie that will appeal to everyone, whether they want spine-tingling horror or would rather see a film that the whole family can enjoy together. Your must-watch list should definitely include these timeless films and little-known treasures:
Psycho: Alfred Hitchcock's masterpiece, a true classic that will keep you on the edge of your seat.
Hocus Pocus: A family favorite filled with witches, magic, and humor.
The Shining: A psychological horror film that has haunted audiences for decades.
Beetlejuice: A quirky and fun choice that blends humor and the supernatural.
The Nightmare before Christmas: A unique blend of Halloween and Christmas, this stop-motion animation film follows Jack Skellington, the Pumpkin King, as he stumbles into a different holiday world, with amusing and spooky results.
Coraline: Based on Neil Gaiman's novel, this animated film tells the story of Coraline, a young girl who discovers a parallel world behind a hidden door, which initially seems magical but turns dark and sinister.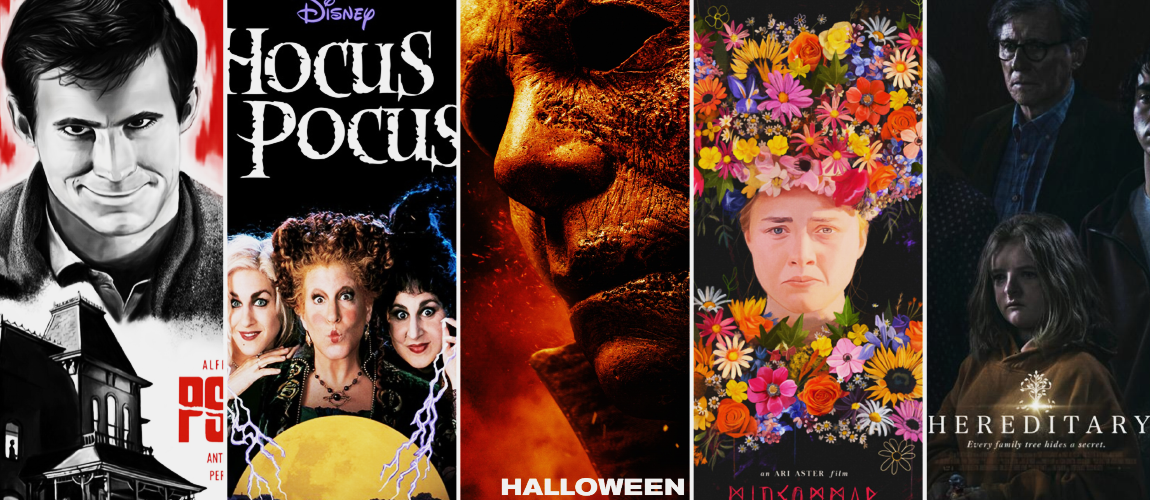 Hereditary: A modern horror masterpiece that delves into the psychological and supernatural horrors that befall a family after the death of their secretive grandmother.
Get Out: A gripping and thought-provoking horror film that explores racial tensions and societal issues in a terrifying and suspenseful way.
Midsommar: From the director of "Hereditary," this film takes a group of friends to a rural Swedish village during a summer festival, but the idyllic setting hides dark secrets.
Halloween Kills: The latest installment in the Halloween franchise, continuing the story of Michael Myers and his reign of terror on Halloween night.
Trick 'r Treat: This anthology film weaves together multiple Halloween-themed stories and captures the essence of the holiday.
Creating a Spooky and Elegant Halloween Décor for Your Home 🔮
Now that you've got the Halloween spirit, it's time to turn your house into a haunted sanctuary by adding some spooky decorations. Here are some ideas for decorating that will amaze your guests, and include everything from horrifying ghosts to frightful monsters:
Spooky Lighting: To create an ominous atmosphere, use flickering candles and coloured lightbulbs.
Sinister Wall Decals: Peel-and-stick wall decals featuring bats, spiders, and other creepy critters can add a spooky touch.
DIY Decorations: Make eerie decorations like cobwebs and floating ghosts for your own haunted house.
Ghoulish Centrepieces: To create a horrible yet exquisite look for your dining table, use carved pumpkins, black flowers, and synthetic spiderwebs to create eye-catching centrepieces.
Witch's Brew Bar: Create an enchanting drink station by setting up a 'witch's brew' bar complete with bubbling cauldron punch bowls, weird cocktails and a variety of garnishes.
You can visit the Home & Garden section to find the best online deals and discount codes available for home & garden brands in the UK. Alternatively, you can follow our recommended brands here; Argos, Wayfair, John Lewis and Anthropologie. 🐈‍⬛

Discovering the little Untold Past of Halloween 👻
Let's research the historical background of Halloween before we get into the specifics of buying and staying safe online. The traditions associated with can be linked back to rituals of pagan celebration in ancient Celtic lands as well as Christian practices. It is believed to have arisen from the Celtic holiday of Samhain, which was held at a period when people thought that the boundaries between the living and the dead become blurred. The ancient Celtic festival of Samhain eventually joined with the Christian celebration of All Hallows' Eve to form the present-day religious holiday we know as Halloween.

Fantastically Scary: Halloween Shopping Online 🤡⚰️
Online shopping can help you get ready for your Halloween trip. No matter if you're looking for the perfect outfit, scary decorations, or creepy party supplies, the virtual world has a huge selection to meet all of your frightening needs. Anyone can be creative in this world, and the best thing about it is that you can get all the things you need for Halloween from the comfort of your own home. As you start your digital journey, don't forget to check out theDiscountCodes special Halloween discounts section 🍬. It's the place to go to find discount codes, deals, and offers that will make your Halloween shopping a treat.
Find one-of-a-kind costumes at rates that are within your budget at Asda George, H&M, PrettyLittleThing, NA-KD and Very. You may get the ideal clothing to match any topic of interest or character if you shop online at one of the countless online retailers that often provide an even wider range of choices than traditional stores provide.
You can turn any room into a spooky fantasy place with the help of a plethora of creepy decorations and accessories. You may get anything from realistic skeletons to cartoon witches on today's online stores.
Get everything you need for a spooky party without leaving the comfort of your own home by shopping our extensive selection of party supplies. Make the environment more festive by picking up some themed dishes, glasses, and decorations from the retailers.
Compare and save money by taking advantage of the many benefits offered by online shopping, including the ability to easily compare the offerings of various stores. To get the most out of your money saving efforts, look for discounts and deals that are only available online especially websites like theDiscountCodes.co.uk.
The best way to guarantee you're purchasing a high-quality product is to read reviews written by actual customers like yourself. It's a fantastic method for gaining insight into potential outcomes from the points of view of others shoppers.
Remember that if you place an order near Halloween, you will need to pay particular attention to delivery deadlines. Make sure you buy with enough time for your products to arrive before your Halloween parties. Also try to use custom boxes for Halloween to protect your product from any kind of breakage
First Things First: Trick or Treating Online Safely 🍭
In today's technologically advanced world of the internet, Halloween celebrations have moved to their new location online. The world of the digital realm has become an absolutely vital part of the celebration of Halloween, playing a role in everything from getting ideas for scary recipes to buying for costumes. However, despite the fact that there are numerous advantages to the virtual world, there are also many disadvantages. When participating in the Halloween activities that take place online, it is essential to bear in mind the importance of maintaining a secure online environment.
Safe Shopping: Only buy costumes, decorations, and party items from websites and shops that you know and trust. Look for safe ways to pay and for the lock icon in the address bar of your computer. This means that the link is safe.
Phantom phishing: Be careful of emails or messages on social media from people you don't know that offer appealing Halloween deals. It's possible that these are scam efforts to get you to give out personal information. For sure savings, only use stores and services you know and trust, like theDiscountCodes UK.
Ghostly Games: If you're going to participate in any Halloween-themed games or other online activities, be sure they come from a reputable source. It's possible to fall victim to viruses or frauds over the internet. Learning from others' experiences, do your homework, and avoid giving out unnecessary details.
Ghosting Social Media: It can be fun to share your Halloween fun on social media, but be careful about what you're posting. Don't give out personal information like your address, and check your privacy settings to decide who can see your posts.
Haunted Hotspots: Be cautious of the hotspots you connect to if you must use public Wi-Fi for your Halloween celebrations online. It's best to avoid doing anything sensitive on public Wi-Fi networks.
If you make protecting yourself when you're online during your Halloween activities a top priority, you'll be able to take full advantage of all the digital treats this time of year has to offer while keeping the ghosts and goblins of the internet at away. You may celebrate the magic of Halloween offline as well as online, but you need take precautions to ensure that your online presence is not creepy.
In the end, Halloween is a holiday that brings together the chills and thrills of scary movies, the ingenuity of those who decorate their homes, and the richness of the days gone by. You may have a spooktacular time throughout the Halloween season by taking advantage of the ease of online shopping while also maintaining safety in mind. Grab some popcorn, put some thought into your decorations, and enjoy the magical feeling of Halloween while taking precautions to preserve your health and safety.
Best wishes for upcoming Halloween Day !! 
---